Over the past five years, audiences and ad revenues have migrated to internet platforms in large numbers, according to a study released Thursday.
"Google and Meta/Facebook are currently absorbing about half of all global digital advertising spending, while global advertising revenue generated by newspapers has halved over the past five years," the United Nations Education Organization said in a statement. science and culture (UNESCO).
The Covid-19 pandemic exacerbated the information crisis
The pandemic exacerbated already declining trends in advertising revenue, as well as job cuts and newsroom closures, according to a UNESCO study.
More than a million messages containing inaccurate, inaccurate or misleading information about the pandemic were circulated on Twitter in September 2020.
Two-thirds of journalists believe their work is no longer reliable due to the economic pressures associated with the pandemic, UNESCO quotes based on data from the International Center for Journalists. [Centre international des journalistes].
In the context of a pandemic, journalism, especially investigative journalism, is an advanced service that saves lives.
As misinformation related to the Covid-19 pandemic quickly spread on social media, newsroom closures and job cuts in the sector have left a large gap in the media landscape, especially in southern countries.
According to the Covid-19 Infodemic Observatory, over a million messages were circulated on Twitter in September 2020 containing inaccurate, misleading or misleading information about the pandemic. [Covid19 Infodemics Observatory ]Bruno Kessler Foundation initiative [Fondazione Bruno Kessler ].
©UNESCO/ Enos Teche
Journalists covering the attack in Kenya.
Journalists attacked from all sides
This economic crisis is also coming at a time when the safety of journalists is increasingly threatened not only by governments and criminal gangs, but also by private lobbies and some citizens who, more and more trusting, insult and attack. online.
Specifically, UNESCO identifies three factors that contribute to violence against journalists, namely impunity for murders, mass online violence against journalists, and attacks on journalists covering rallies, audiences, demonstrations and riots.
• Impunity for murder : From 2016 to the end of 2021, UNESCO recorded the killing of 455 journalists who died either because of their work or while working. Nearly nine out of ten murders remain unsolved. Around the world, the level of impunity for the killing of journalists fuels the cycle of violence and has a chilling effect on all journalists.
• massive online violence against journalists is another new and growing trend. This disproportionately affects women journalists around the world. A 2021 UNESCO study found that more than seven out of ten female journalists surveyed had experienced violence online. A fifth stated that he was subjected to offline violence in connection with online threats.
• attacks on journalists covering rallies, demonstrations and riots has also reached an alarming frequency: from January to August 2021, UNESCO recorded such attacks in at least 60 countries in all regions of the world. Since 2015, at least 13 journalists have been killed while covering protests.
In many countries, laws do not adequately protect journalists from these threats, and in some cases the legal framework even increases the risks they face.
Since 2016, 44 countries have adopted or amended new laws containing vague terms or disproportionate penalties for acts such as spreading "false information", "rumours" or "cyber defamation" that lead to self-censorship.
In 160 countries, defamation is still a criminal rather than a civil offense, allowing it to be used as grounds for arrest or detention, resulting in journalists being silenced.
Data from the Committee to Protect Journalists [Comité pour la protection des journalistes] show that 293 journalists were jailed in 2021, the highest annual figure in 30 years.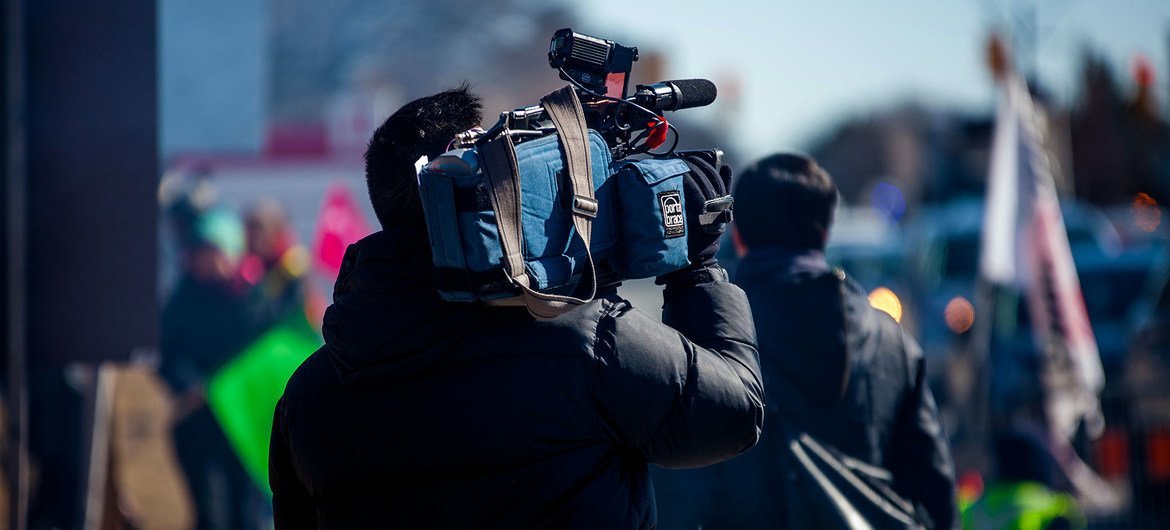 Unsplash/Jovon Stevens
Reporter covering a demonstration
Protection of independent media and safety of journalists
UNESCO is calling on governments to take policy action in three key areas to protect independent media and the safety of journalists:
Maintain the economic viability of independent media while respecting the professional autonomy of journalists. For example, governments can provide tax incentives to independent news outlets in a way that is fair, transparent, and does not compromise editorial independence.
Develop media and information literacyto teach all citizens to distinguish reliable and verified information from unverified information, as well as to encourage the public to seek information in independent media.
Adopt or reform media laws to support the production of free and pluralistic informationin accordance with international standards for freedom of expression, including article 19 of the International Covenant on Civil and Political Rights.