>>Decentralization: Pan-African Film Festival FESPACO presented in Vietnam
>>Movies: 1D decentralization of the FESPACO pan-African festival in Vietnam
>> Fespaco: Golden Stallion awarded to film by Somali Ahmed Hadar
>>Start 27as well as Fespako, "straight"despite the crisis in Burkina
Presentation of the FESPACO trailer during a press conference on March 4 in Hanoi.
A mile in my shoes (A mile in my shoes – Morocco) hurricane center (Burkina Faso), Congratulations (Senegal) and Jungle Mercy (Rwanda). For the first time, these films, which are among the best recent FESPACO releases and winners of numerous prizes at prestigious international festivals, were presented to the Vietnamese public for the first time. And this is within the framework of the first decentralization in Vietnam of the Pan-African Film and Television Festival in Ouagadougou.
Created in 1969, FESPACO, Africa's largest film festival, takes place every two years in the capital of Burkina Faso. And 53 years after his birth, he was first introduced in Vietnam.
Screening of four films
Four films have been selected to be screened from 11 to 14 March 2022 at the National Documentary and Science Film Studio in Hanoi. This decentralization was organized by the General Representation of Wallonia and Brussels in Vietnam in partnership with the Embassies of Belgium and Morocco and the Representation of the International Organization of Francophone Asia and the Pacific (PERPA).
"For three years I served as the Belgian Ambassador to Burkina Faso. In this way, I was able to see that the variety of African cinema is little known in the world.– shared the Ambassador of Belgium to Vietnam Paul Jansen, a member of the organizing committee of the festival, about the reason for holding FESPACO in Hanoi.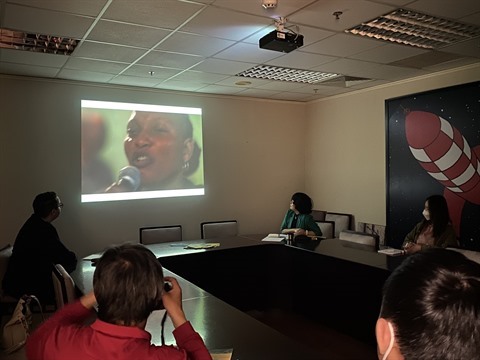 The first FESPACO decentralized exhibition in Vietnam was held from March 11 to 14 in Hanoi.
It was an exceptional opportunity to discover four masterpieces of African cinema, tracing the different horizons of the continent. Through these works, Africa appears in all its complexity and mystery, filled with natural beauty, human warmth and hope, but also ethnic and social challenges.
According to Paul Jansen, these four films have been among the best recent FESPACO releases and won awards at prestigious international festivals. "First of all, they trace the current reality in Africa and allow the Vietnamese public to be interested in what is happening today in African countries.", he pointed out.
"Watching and choosing films to show touched me very much. African filmmakers have a way of telling about war or causing social issues that is very different from their Vietnamese counterparts. This is a great idea to introduce the Vietnamese audience to African cinema." Le Tuyet Nhung, who is in charge of cultural projects, heritage and press events of the General Delegation of Wallonia-Brussels in Vietnam, commented.
The opening film was A mile in my shoes Directed by Said Khallaf. Released in 2016, this dramatic work was voted Best Moroccan Foreign Language Film at the 89th Academy Awards in 2017, but was not nominated. It traces a caustic portrait of a street child growing up in the chaos and poverty of a ruthless city. Said, this teenager who has always lived in embarrassment and suffering, decides to take revenge on a cruel and intolerant society.
"It is a film that has been in the making for more than a decade and leaves the well-trodden paths of conventional North African and Arabic cinema in narrative terms. I'll let you go to the cinema to discover this beautiful film that won awards at various festivals, including the FESPACO Bronze Stallion 2017.", – said Mohamed Amin Baitar, in charge of cultural affairs of the Embassy of Morocco.
Because A mile in my shoes, hurricane center, Jungle Mercy as well as Congratulations also received several awards at international festivals. These three fictions are in fact a reflection of social issues, security issues and political-military issues. They appeal to very hard and very strong feelings in the audience…
Francophonie Image Fund
The three films were supported by the Organization Internationale de la Francophonie (OIF) through the Francophone Image Foundation, which has been in operation for thirty years. It is a financing facility focused on the Francophone countries of the South and has been managed by the OIF for more than 30 years. The Fund's budget is one million euros per year, for both film and audiovisual productions.
Several Vietnamese directors took advantage of his support: Nguyen Hoang Chip with Đập canh giữa không trung (flapping wings in the wilderness), Fang Chang Di Cha wa con wa… (stories about the Mekong) and Bùi Tac Chuyen with an ongoing project this year.
one. A mile in my shoes – A mile in my boots (Morocco)
– Bronze stallion FESPACO 2017
– Sumanu Vieira African Critics Award
– Sign of special mention.
2. hurricane center – Eye of the Storm (Burkina Faso)
– Selected for FESPACO 2015
– African Film Academy Award for Best Film 2016.
3. Congratulations (Senegal)
– Berlinale 2017: Grand Jury Prize
– FESPACO 2017: Yenneng Gold Standard
– African Academy Film Award for Best Sound.
4. Jungle Mercy (Rwanda)
– 2020: Best Director and Best Makeup out of 10as well as Magritte Film Awards Ceremony
– 2019: Yenneng Golden Stallion by FESPACO
– 2018: Best Screenplay and Best Actor at the Festival
African Cinema Khouribga (FCAK).