The T-Roc, Volkswagen's second best-selling car in France, has been redesigned and is finally better in terms of workmanship. Its equipment level is also progressing, as is its price. Too bad he ignores hybrid engines.
The first generation of the Volkswagen T-Roc, which appeared in 2017, was a great success, with 71,000 units sold in France. It is even the brand's second car after the city car Polo and fifth in sales of city SUVs after Peugeot 2008, Renault Captur, Dacia Duster and Citroën C3 Aircross. Therefore, the stakes during restyling are very high, and the manufacturer did not want to risk too much by minimizing changes. In terms of aesthetics, the 2022 T-Roc features new front and rear fascias (with 100% LED taillights as standard) and improved workmanship, especially in terms of the dashboard. It must be said that the T-Roc is in the same urban SUV segment as the recent Volkswagen Taigo, and that to avoid internal competition it features a more plush side, while the Taigo plays the design card. Thus, the new version of T-Roc features an updated and higher quality interior to further highlight this difference.
Quality of life on board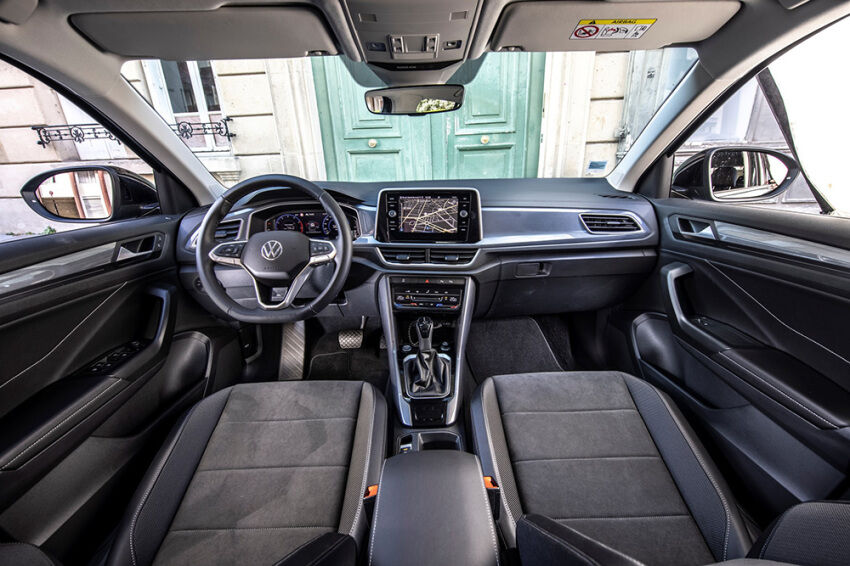 At the time of its launch, the T-Roc was criticized for finishing slightly below Volkswagen standards, using hard materials throughout the dashboard and sometimes perfect settings. Now the manufacturer corrects these shortcomings. The first modification, the central screen is enlarged and much more readable. Under this screen there are now sensitive keys. Another notable improvement, but not necessarily noticeable to the eye, is the upper part of the dashboard, which is lined with foam, which is much nicer to the touch. Finally, all nodes are level and vibration is not felt during movement. We can also note that all versions receive a digital instrument cluster that can be personalized.
On the other hand, what doesn't change, and it's really unfortunate, is the always unpleasant navigation system, whose voice messages are sometimes eccentric and even incomprehensible, in particular when approaching a roundabout. Similarly, the center rear seat is still difficult to use because it is too rigid and impractical. The rear also seems to have been forgotten by the manufacturer because the door covers, now fabric or faux leather up front, depending on the version, remain molded in a single piece of low-value hard plastic at the back.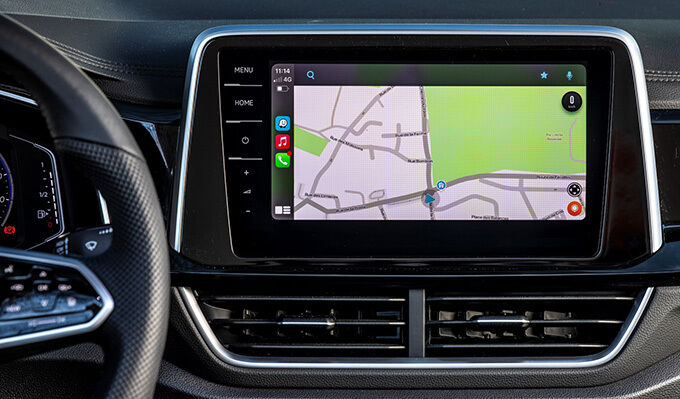 The latest development on board T-Roc: all Volkswagen vehicles are now connected via smartphone thanks to the We Connect app or We Connect plus. Basically, it allows you to find your car, open it (if your smartphone is compatible) or find out the general condition of your car (fuel level, mileage, etc.). In its extended version, it is free for the first 3 years, then from 75 to 239 euros per year after that, depending on the duration of the commitment and equipment, it is possible to remotely activate a light or a buzzer, receive traffic information, etc. .

Driving
The engine offer is available in 3 petrol engines (1.0 TSI 110 HP BMV, 1.5 TSI 150 HP BVM or DSG and 2.0 TSI 300 HP DSG 4Motion for T-Roc R) and 2 diesel engines (2.0 TDI 115 hp BVM and 2.0 TDI). 150 hp DSG 4Motion). According to the manufacturer, it is the gasoline version with a capacity of 150 hp. with the DSG 7 dual-clutch transmission should represent the biggest sellers, so we took it into our own hands. The block turned out to be very pleasant to operate, quiet and arbitrary. The gearbox is quite responsive, except on very twisty roads where a sport mode or even passing reports via steering wheel-mounted paddles is needed. In terms of consumption, it is quite reasonable, since on a route consisting of motorways and mountain roads, the average on-board computer was 6.5 l / 100 km.
No changes have been made and the road behavior remains the same as in the old version. Therefore, we always regret having very stiff suspensions that are not very pleasant on small road imperfections. They even become uncomfortable when the coating is severely degraded.
An important change to note is that the T-Roc is now getting a capacitive steering wheel that makes it much easier to detect the driver's hand. This is far from trivial and really practical when using Travel Assist (a system that combines adaptive cruise control and lane keeping), which corresponds to Level 2 autonomous driving. Indeed, with this type of steering wheel, the driver no longer needs to hold it tightly. resist to indicate to the system that he is holding it in his hands (otherwise Travel Assist will be deactivated) and can simply put his hand up. Therefore, it is more comfortable to ride on the highway.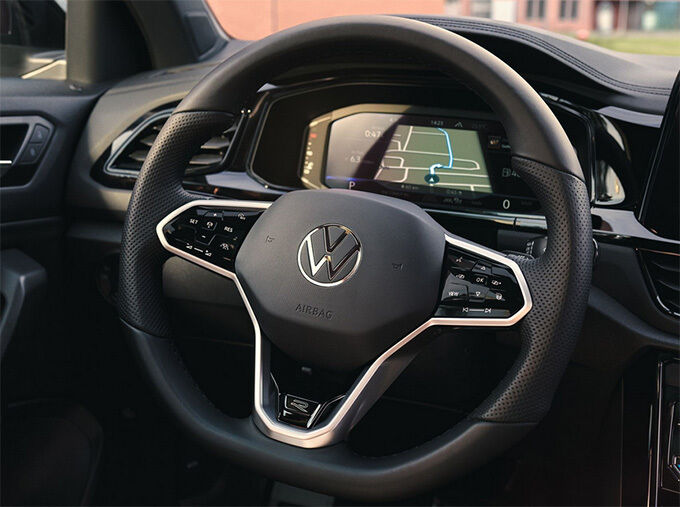 Security
The new T-Roc comes with a number of safety features as standard, such as line hold, front radar, etc. It can now detect the risk of a rear collision and take measures to protect passengers (partially closing openings, applying emergency brakes …). Depending on trim, it has standard or optional blind spot detection, adjustable damping suspension… Equipment that confirms the 5-star EuroNCAP crash test score of the previous 2017 T-Roc.
Briefly about the Volkswagen T-Roc.
Offered from €27,990, the new T-Roc already costs €730 more than its predecessor. So, of course, the level of equipment and workmanship help to skip the pill, but we can't say that the T-Roc is affordable. Moreover, in a competitive environment, prices are often more affordable: 23,850 euros for a Peugeot 2008 or 19,650 euros for a Citroën C3 Aircross. As for the Renault Captur, if it is close in price (from €28,200), it is offered with a hybrid engine. However, the T-Roc stands out for its finish, which is now at a very good level, and higher build quality.
+
Build quality in progress
Driving pleasure
Equipment level
–
solid pendants
Rear center seat
Price