Game news Tiny Tina's Wonderlands: the real Borderlands 4?
In the spring of 2022, Gearbox Software is dusting off one of its iconic franchises. Tiny Tina's Wonderlands eschews the punk apocalypse for a moment in favor of heroic fantasy. Does this Borderlands spin-off live up to the Vault Hunter legend?
Summary
History

Graphics

Gameplay

Scenario

Content
History
Tiny Tina's Wonderlands tells the story of the Hand of Destiny, a "noble" adventurer who must free Wonderland from the yoke of the necromancer Dragon Lord and his legions of the resurrected dead. This is the starting point of a story invented by Gearbox Software. If this scenario seems to be sewn from white wire, then this is more than normal. The writers were mostly inspired by tabletop RPGs with Dungeons & Dragons at the forefront, but not only.
The very structure of the adventure is reminiscent of those long epics born of the game master's fervent imagination, who at times does as he pleases. And who better than Tiny Tina, the iconic character from the Borderlands saga with an annoying tendency to twirl around as the goofy and fickle narrator? The main strength of the game in terms of storytelling lies in that unique tone of Gearbox and the unpredictability of the story being told. Tina changes history when it suits her, and especially in her own way, which adorns the epic with a dose of surprise that shouldn't displease us.
However, it must be acknowledged that ubiquitous humor will not appeal to everyone. The title hits hard and often below the belt, to the point where it defuses the epic dimension of the story with a well-felt tirade, but out of nowhere. Tiny Tina's Wonderlands doesn't stray off the beaten path when it comes to directing, but stands out for its uninhibited and often unorthodox approach to traditional fantasy storytelling.
---
Graphics
Gearbox Software makes up for somewhat aging engine colorful art direction in Cel Shading which has proven itself in the past and is still proving in 2022 its ability to smooth visuals for a neat result. Tiny Tina's Wonderlands is clearly not up to date and never aspired to be. On the other hand, in terms of gaming experience, the studios provide. The adventure is smooth and, above all, error-free. No slowdown, no inconvenience of any kind can ruin a serious adventure from a technical point of view and, above all, exotic in many ways.
The studios are changing the conventional punk-apocalyptic universe that made the Borderlands saga so successful into a heroic fantasy with all the consequences in terms of environments and creatures. Exploring the semi-open areas that make up Wonderland is once again the cornerstone of the gameplay that Gearbox Software has come up with. You will have to wander for hours in different places inspired by piracy, ancient Egypt, the sunken city of Atlantis or even Mordor. Tiny Tina's Wonderlands invites players to open their eyes wide and enjoy a seductively rendered setting. The same goes for the pyrotechnic effects, which themselves light up the encounters and highlight the powers of the heroes.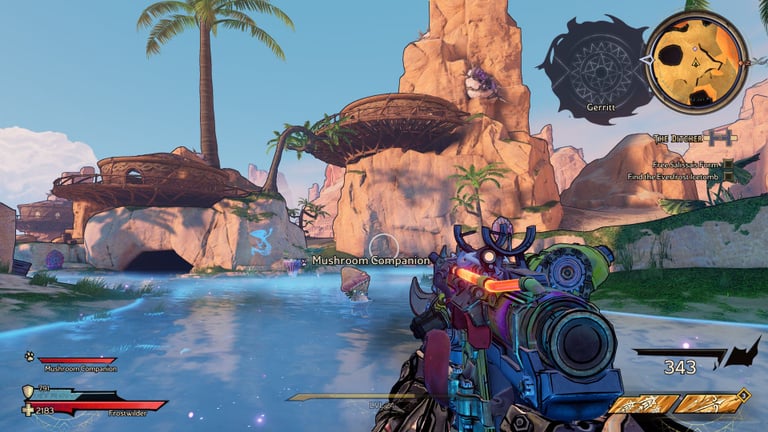 ---
Gameplay
The gameplay is mostly based on the Borderlands stamped formula and doesn't deviate much from it, even if new items integrated by Gearbox Software freshen up the saga. Borderlands fans will be back to their old habits seconds after they set foot in Wonderland. This spin-off gives pride of place fierce battles against the updated bestiary. Slaying hundreds of minions of the Dragon Lord with an easy-to-handle arsenal and magical powers with devastating effects is still exhilarating. Unfortunately, poorly used melee attacksdespite the fantasy setting, don't let Tiny Tina's Wonderlands playfully stand out from its predecessors.
Gearbox Software is second best when it comes to playful and cosmetic avatar customization. The studios are giving fans a long-awaited multi-episode feature… a full character editor. No more pre-installed sets, there are dozens of options for modifying the face, morphology, armor and decorations of your Hand of Fate to create a hero in your image or not. The decision is now yours. We also have to mention the multi-class system, which enriches the RPG dimension a bit by allowing you to combine two of the six available classes and thus create a theoretically unique character.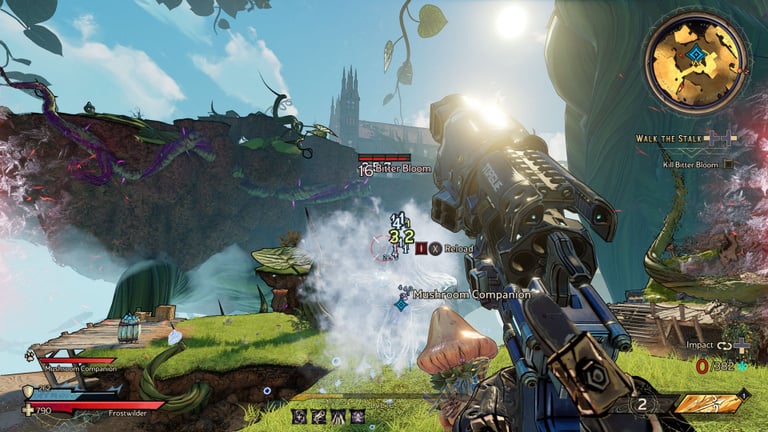 Looter-Shooter has Looter. In order to loot, you will loot en masse, sometimes even too much, to the point that it will be annoying at times. It's not uncommon to find a piece of gear or a weapon in Tiny Tina's Wonderlands that is really "stylish" but doesn't really match your character built over long play sessions. If the power increase is ubiquitous and rewards most of the time, this overly random reward management can be confusing Not one. The Gearbox Software name also suffers from a certain repeatability of the game cycle which, as its genre suggests, is all about looting and shooting again and again. As fun as the formula is, it can become redundant over time.
Another novelty designed to turn Wonderland into a coherent universe … the Upper World. This overlay, similar to an interactive map with chibi avatars moving around, ties the different zones together. While this feature is a good idea on paper, in reality it requires multiple bypasses and ends up slowing down players' progress. The overworld is actually randombut highlights the approach to tabletop role-playing video games desired by the Gearbox Software studios.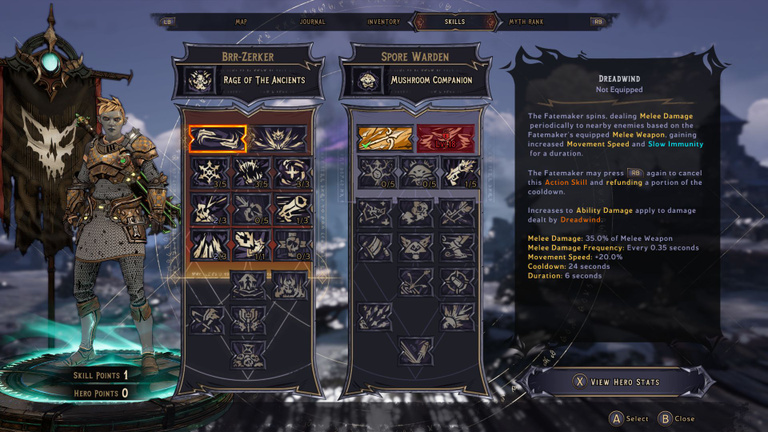 ---
Scenario
It must be admitted that the scenario, no matter how inventive and unusual it may be, only rarely surprises the players. In terms of substance, Gearbox Software is releasing a fantasy adventure inspired by the genre's cult titles, not without adding something small that makes a big difference. outside its ultra-referential universe that will amaze fans of heroic fantasy and pop culture in general, it's the episodes of What the F*ck that make Tiny Tina's Wonderlands spin-off, and before it Borderlands, a project that stands apart in the gaming landscape. Level doesn't matter, Gearbox Software has nothing more to prove.
Let's go back a bit to the stream of references and winks that underline the adventure. Whether Dungeons & Dragons, Lord of the Rings, Stargate or The Fifth Element… there is something for everyone… if you were born before the 21st century. Humor is too often the unwitting victim of a translation that struggles to transfer jokes, snarky tirades, and other oily nonsense into another language. In this case French dub and so the performances of the actors are to be welcomed. Despite all his good intentions and undeniable qualities, the story sometimes turns out to be secondary and too wordy glue the players to the chairs.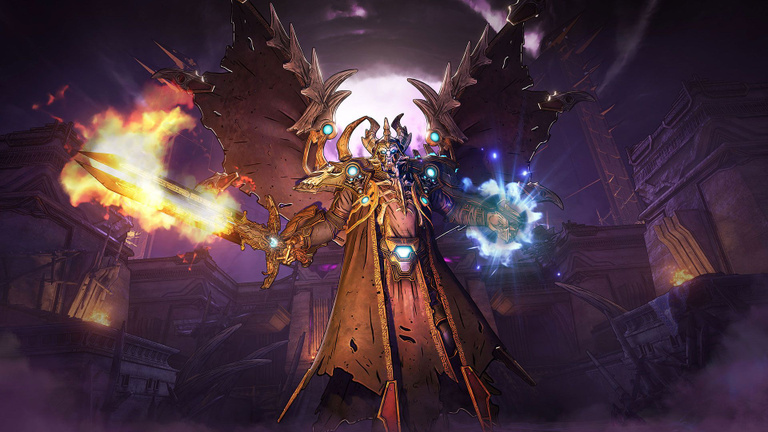 ---
Content
Lack of content has never been a problem in the Borderlands saga, and its spin-off is no exception to the rule. In terms of weapons, gear, and loot in general, this RPG has a field day, even if it means satisfying the toughest players. There are hundreds of thousands or more of blasters alone, and this is just the tip of Wonderland. The main campaign takes about twenty hours to complete, and the adventure has many other things to offer. Tiny Tina's Wonderlands includes dozens of side quests, vast and rich areas for side games, and completely redesigned End Game modeled after the shortcomings of Diablo 3.
Chaos Chamber promises dozens of hours of combat in semi-randomly generated dungeons. A few new bosses have even been designed for this mode. The lifespan of this Action-RPG is simply superb. Finally, tradition obliges, Tiny Tina's Wonderlands fully playable for 1 to 4 players both cooperatively and competitively. The difference lies in the way the loot is distributed at the end of the mission.
Tiny Tina's Wonderlands is a solid and respected spin-off of the Borderlands saga. Gearbox Software isn't revolutionizing the genre in any way, but it does innovate enough to make it an episode in its own right. Tina passes the test of fire with honor.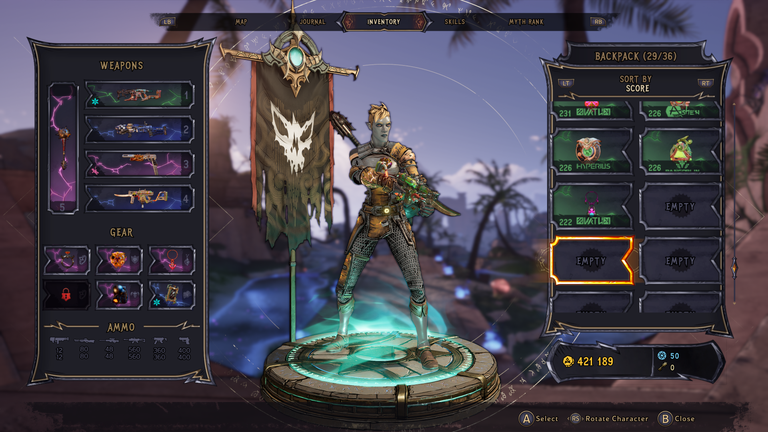 ---

TO Silent_Jayjeuxvideo.com journalist
Twitter