If you want to go on holiday with peace of mind while keeping an eye on your home, security cameras are a good solution. And there is no need to pay a high price for the Eufy Security designed for the exterior, which is losing 33% of its price on Amazon.
Today, there are more and more security camera solutions, but they are also more affordable. However, the brands do not neglect the technical data, providing features similar to higher-end products. The SoloCam E20 from Eufy Security perfectly meets the expectations of this type of product. It can shoot day and night with proper rendering and alert in real time in case of suspicious motion, all without the high price tag thanks to this immediate 33% discount.
Advantages of the Eufy Camera
Easy to install wireless outdoor camera
Which notifies in real time and shoots in 1080p
And good autonomy of 4 months
Small addition: no extra storage costs
Eufy Security's SoloCam E20 Surveillance Camera costs €99.99, but thanks to a 33% off coupon, it's now €66.99 on Amazon.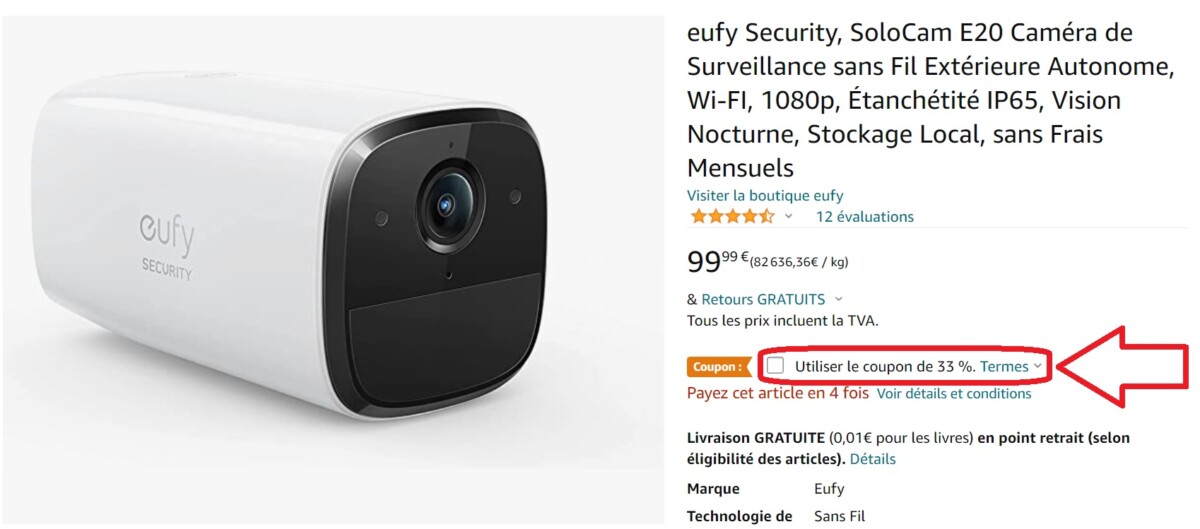 A surveillance camera that fits the essentials
The first thing we can appreciate about this model is the ease of installation. No need to call a wizard, the rotating mounting bracket is screwed on in just a few minutes. Once it's installed, all you need to do is pop your camera into it. SoloCam is wireless and does not need HomeBase to work. Designed for outdoor use, the camera is stable and durable. Certified IP65, the SoloCam is weatherproof and withstands both extreme heat and the coldest temperatures. As for its autonomy, the manufacturer provides for 4 months of use, which is quite correct.
Basic features, with a slight advantage
Returning to the characteristics of the surveillance camera, the latter is capable of shooting with FHD resolution, that is, 1920 x 1080 pixels. In terms of image quality, it's clear enough to be able to recognize a face. However, sudden changes in brightness can sometimes cause problems or even trigger motion detection. With this camera, you will be able to guard your home day and night, because it has infrared night vision within a radius of eight meters, but the image loses quality. Artificial intelligence is integrated to avoid false alerts caused by, for example, animals or branches.
You can define your own detection zones so that the camera only alerts you when motion is detected in the designated area. In case of suspicious movement, you will receive a notification from your smartphone, otherwise you can view the live video stream through a special application. And if you want to scare off would-be burglars, the SoloCam has a 90dB alarm that you can program to trigger when motion is detected, or trigger it remotely from the app. You can also hear and speak through the built-in speakers and microphones.
Finally, Alexa and Google Assistant are also compatible. You can connect it to devices from both manufacturers and ask the voice assistant to show you the video stream from the camera. And if you usually have to subscribe to take full advantage of all the features of your camera, including cloud storage, this is not the case here: no monthly fees or hidden costs.
Which outdoor camera to choose?
If you would like to compare the model featured in this article with other models available on the market, we suggest you check out our guide to the best outdoor security cameras in 2022.
---
To follow us, we invite you to download our app for Android and iOS. You can read our articles, files and watch our latest YouTube videos.