After speakers and headphones, Devialet brings its know-how to a new product category: soundbars. Devialet Dione is an all-in-one product, without satellite or subwoofer, powerful and versatile, compatible with Dolby Atmos.
After attacking the headphone market with the release of Gemini, multiplying partnerships with Huawei or Belkin, and no longer having to prove its speaker know-how with its Phantom in particular, Devialet is launching a new challenge to invest in an additional product category.
On Tuesday, the French sound specialist announced the release of its first Devialet Dione soundbar. An interesting step at a time when increasingly flat-panel TVs need the weight of sound to support their increasingly beautiful picture quality.
17 speakers and no subwoofer
And in its first steps in this audio segment, Devialet doesn't go too far: Dione is an all-in-one soundbar that promises to be a true 5.1.2 home theater without satellite or subwoofer bass. " High-performance soundbar that stands on its own ", the company beats, promising to do it for both video and music. It took three years of thought and two years of research and development before the final result was reached.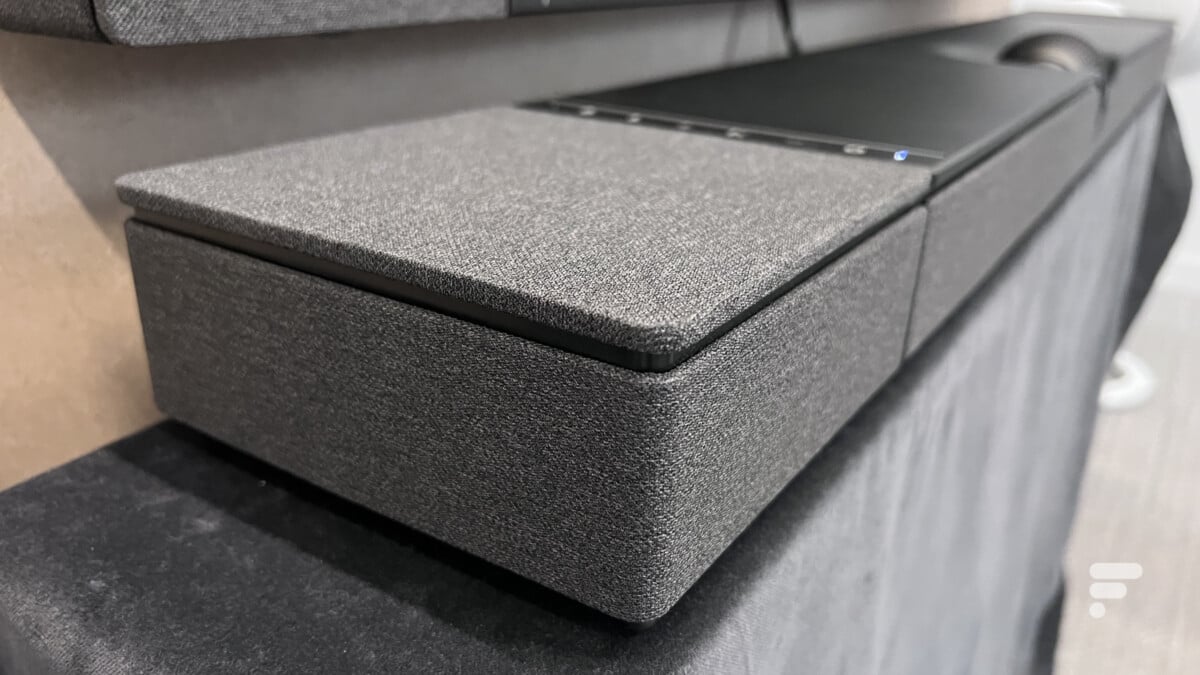 Dione is a soundbar with an almost classic look for a Devialet product. Long format 120 cm long, 16.5 cm wide and 7.7 cm high with an anodized aluminum center cabinet and acoustic fabric all around. The small central ball reminds of its belonging to the Phantom and the Reactor.
On the side is a panel with touch controls (volume, Bluetooth connection, start-pause, ignition, microphone). An LED diode tells you when the strip is active. It adapts to ambient light to be very inconspicuous, even fading out when the room is darker or immersed in darkness.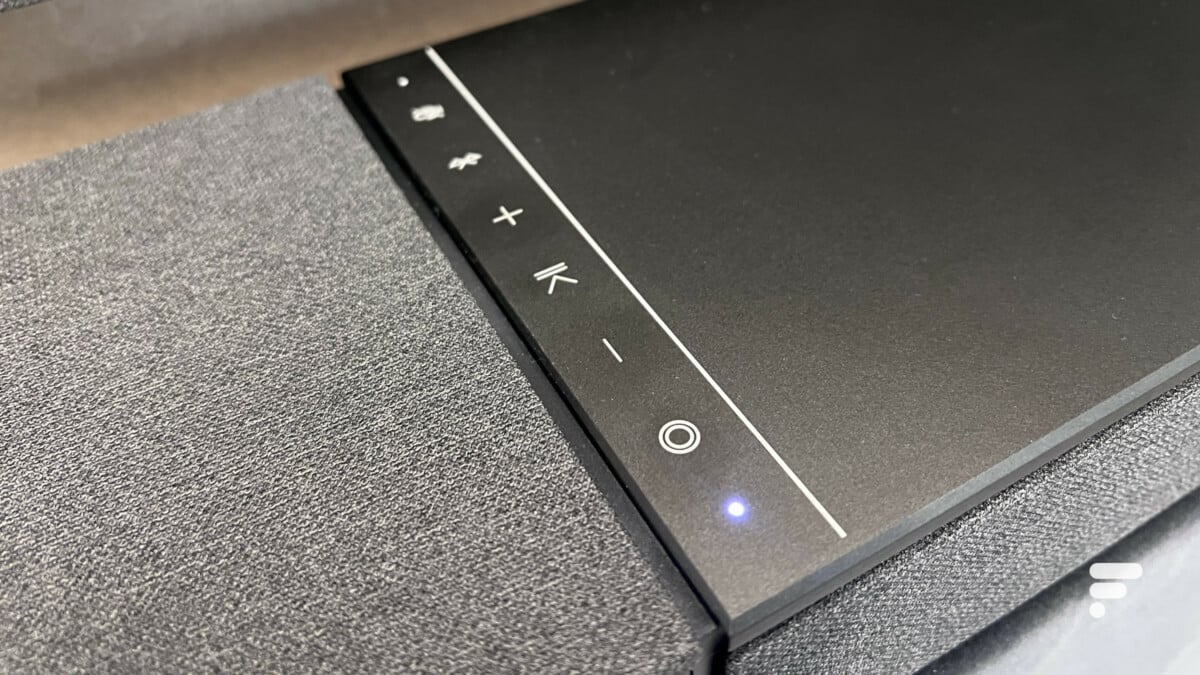 The format is finally compact enough to accommodate 17 speakers distributed over its entire length without losing space, because Dione's design has been studied as carefully as possible. So there are eight high-throw (134mm) subwoofers distributed in groups of four around this strange rotating sphere. They will reproduce the deep bass characteristic of the Devialet, and especially the low ones (up to 24 Hz). They are located in the configuration push-pull to limit mechanical vibrations, a structure already present in Phantom loudspeakers.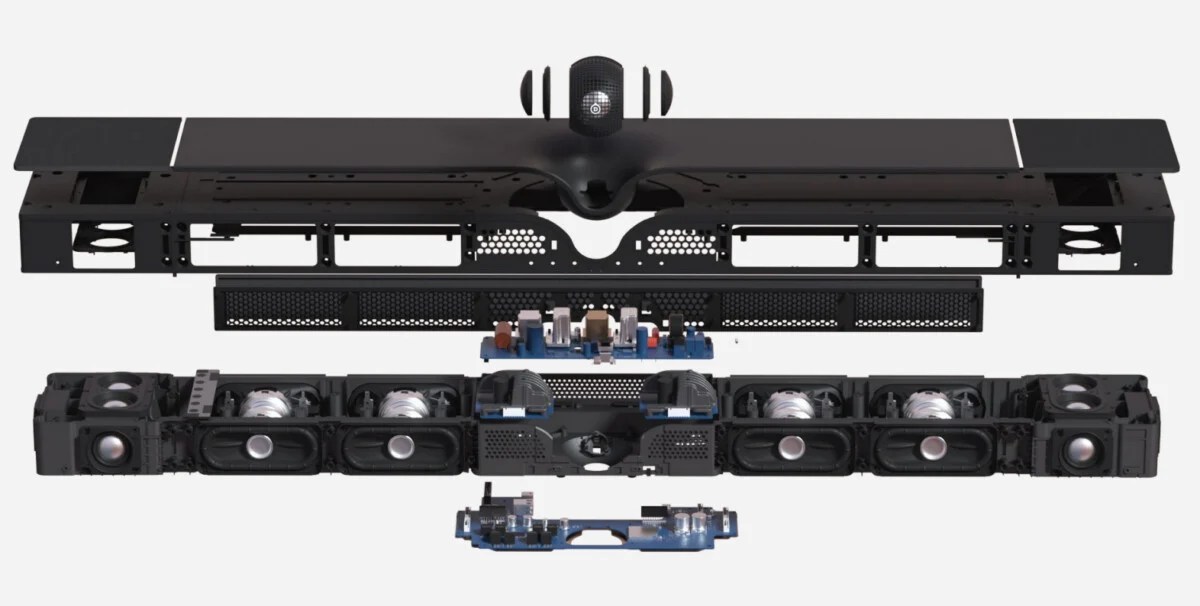 The woofers are equipped with proprietary SAM signal processing and ADH analog-to-digital amplification technology. Enough to easily compensate for the absence of a subwoofer in all audio situations with equivalent 5.1.2 audio channels to provide spacious and room-filling sound. Thus, the soundbar will be able to handle any multi-channel audio format thanks to SPACE technology, which converts any sound signal of audio content (music or video) to 5.1.2 format. This obviously provides solid compatibility with Dolby Atmos and its variations in spatial audio distribution. Thus, if the soundbar offers five horizontal channels and two vertical channels, it is however not compatible with the DTS:X format, but only with the Dolby solution.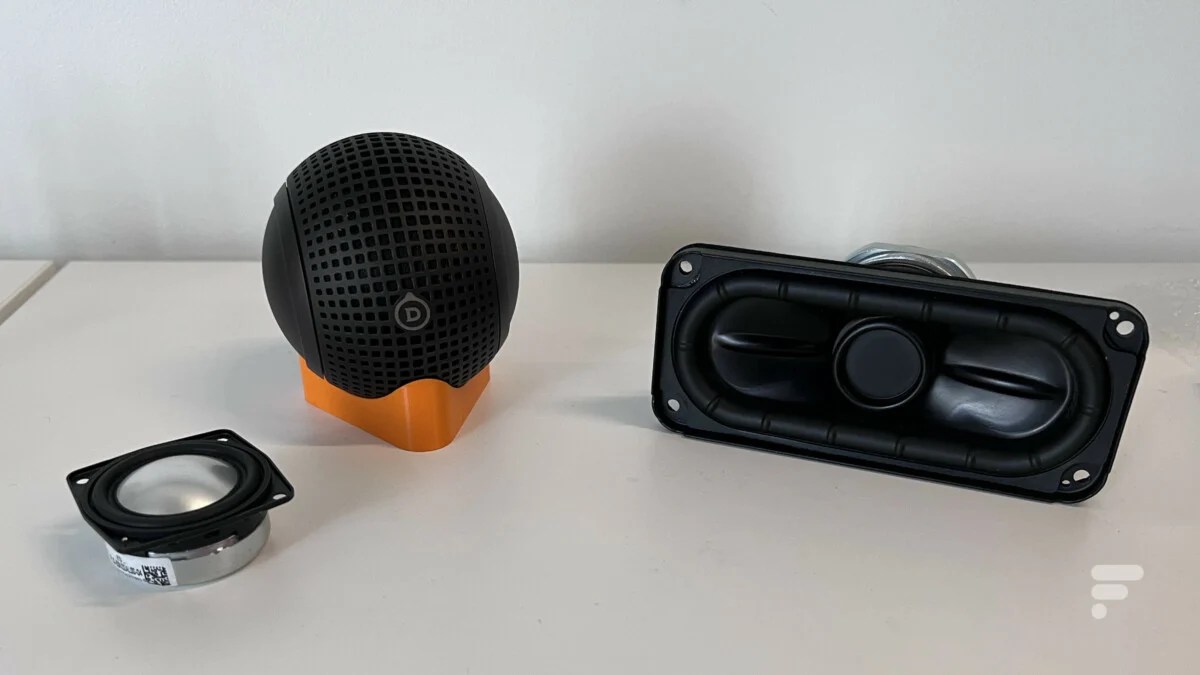 On each side, four 41mm full-range drivers (8 in total) create dynamic mids. But the peculiarity of Dione is also that alien sphere that sits inside her and immediately catches the eye. In a sense, he serves as a central voice.
Strange central sphere
Named ORB, it features an active loudspeaker and two passive radiators. The sphere can be rotated (gently!) 180° to always face the audience in whatever position it is placed. Because Dione can be placed horizontally under the TV, on the ball in front, or mounted on the wall. You will then need to position the sphere up to better orient it at the height of the user.
ORB center sphere enriches sonic immersion // Source: FRANDROID – Melinda DAVAN-SOULAS
ORB sphere, Dione bar specificity // Source: FRANDROID – Melinda DAVAN-SOULAS
The back of the ORB Devialet Dione central sphere // Source: FRANDROID – Melinda DAVAN-SOULAS
For perfect immersion and 360-degree sound in any position, Devialet has patented ADE (Advanced Diemnsional Experience) technology that allows the algorithm to offer optimal sound reproduction in any position. In this way, both on the wall and on the plane, the performance of the speakers and their sound distribution are adapted to optimize immersion. Another proprietary technology, Adaptive Volume Level, allows real-time audio level adjustment and harmonization of video content to avoid excessive differences between dialogue and background music or sound effects.
The soundbar is equipped with an eARC HDMI 2.1 connector with CEC, an optical port (Toslink) and is compatible with Spotify Connect, AirPlay 2, Bluetooth 5.0 and UPnP. Because Dione also wants to appeal to those who don't have an audio system in their living room by also offering stereo speaker status.
When you listen to blockbusters, your ears are filled with powerful sound that fills the entire room. But of our first short attempts, what impressed us the most was Dione's ability to separate voices and background music, scene details. The soundbar is able to smoothly control different levels of content sound, highlight dialogues without drowning out the background, leveling. The audio system also has know-how. It deserves deep listening, but the first contacts are interesting.
No remote control but universal app
To control the soundbar, you can use the Devialet app (same as for speakers and headphones). It will also be used to set up the Dione soundbar, fine-tune audio settings, and also launchRoom calibration.This will allow the audio signal to optimize the sound in relation to the structure of the room.
The app also gives you the option to customize your listening modes. Mode Cinema converts stereo content to 5.1.2 multichannel. Mode Spatial switches stereo tracks to 3D for content from wireless stereo sources (AirPlay 2, Bluetooth, Spotify Connect, UPnP).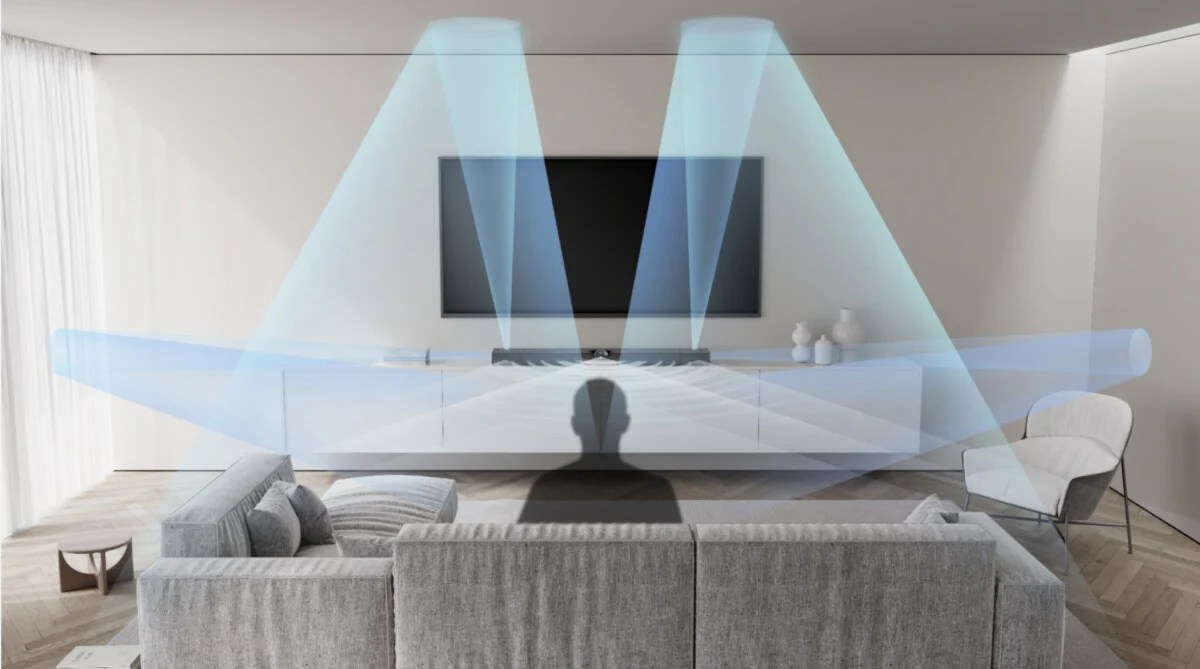 Mode Voice enhances dialogue and voices, as well as audio commentary in documentaries, podcasts, or any informational content where it is important that everything is legible, without erasing background music or element details. Mode Music offers a stereo configuration and disables spatial processing effects that can affect the quality of the title. inMovie and Music modes are activated by default as soon as sources are recognized.
The Devialet Dione does not come with a remote control. It is controlled using touch controls, an app, or the Devialet Remote, an accessory supplied with the brand, or with Phantom speakers.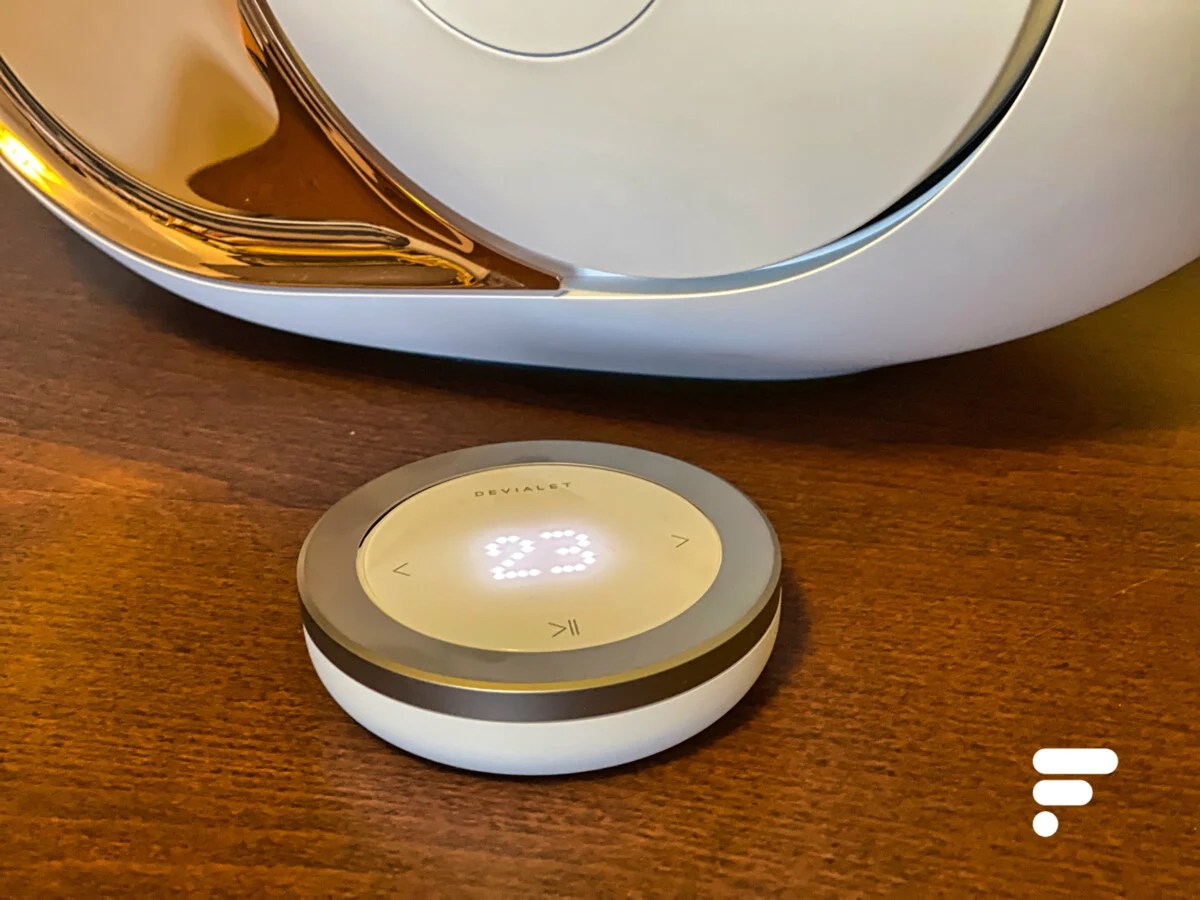 Please note that there is a button on the touch control panel to mute the microphones … there is no built-in voice assistant yet. "At the moment', is the Sibylline answer in Devialet. There is no Google, Amazon, or other voice assistant to tell, but we keep a hypothesis in the corner of a designer's mind. Similarly, the Devialet Dione is not currently designed to work with Phantom or Reactor speakers in multi-room or multi-channel mode. "But why not in the futureThe brand speaks.
Devialet Dione price and availability
The Devialet Dione soundbar is now available for purchase in France for €2,190 on Devialet's website, as well as partners such as Boulanger and Auchan. In the rest of the world, it is available on pre-order.
A price that nevertheless remains above many competitors on the market, in particular the Sonos Arc panel, the upcoming Panorama 3 from Bowers & Wilkins or the Smart Soundbar from Bose. All of them are announced at a price of less than 1000 euros, but with, however, less specific on-board technologies.
---
To follow us, we invite you to download our app for Android and iOS. You can read our articles, files and watch our latest YouTube videos.