After several years of absence, Samsung is returning to the laptop market. The new Galaxy Book line is introduced, focused on ultra-portability without sacrificing power and versatility. Winning return?
Galaxy Book 2 Pro 360 overview and specifications
Samsung offers several Galaxy Book laptops, and here we are testing the Pro 360. An ultra-portable 13-inch laptop with a 360-degree hinge. This allows several types to be used: tent mode, tablet mode, "classic" laptop format… A concept that is not new, but remains noticeable even if most of the time the use will remain "classic", with the keyboard resting on the lap. Note that Samsung still encourages tactile use with an included stylus that can be attached magnetically behind the screen. Good additional argument.
| | |
| --- | --- |
| Screen size | 13.3 inches |
| Screen type | OLED |
| Screen definition | 1920×1080 pixels |
| Update frequency | 60 Hz |
| CPU | Intel Core i7-1260P |
| Graphic card | Intel Iris He |
| RAM | 16GB LPDDR5 |
| Storage | 512GB/1TB NVMe SSD |
| connectors | 3 USB-C, 1 connector, 1 microSD |
| dimensions | 30 x 21 x 1 cm |
| Weight | 1 kg |
Buy Galaxy Book 2 Pro 360 from Samsung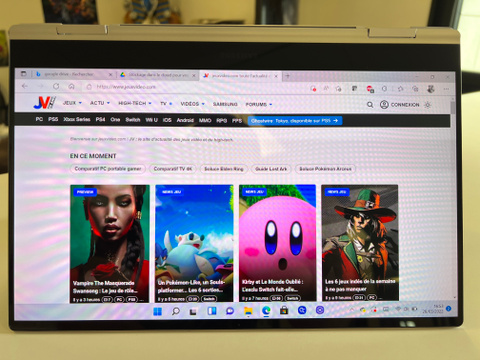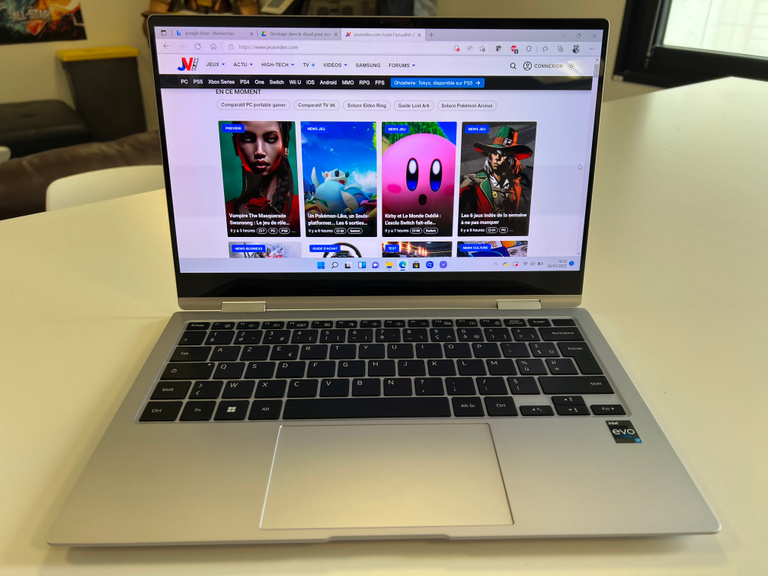 Design and construction: "real" ultraportable ultraportable
If you're looking for a truly ultra-portable laptop, you've come to the right place: the first thing that strikes you when you first meet the Galaxy Book 2 Pro 360 is its lightness and compactness. In fact, it weighs a very small kilogram and fits into a medium-sized bag without any problems due to its 30 cm length and 20 cm width. When closed, it is no thicker than a magazine, at 1.1 cm thick. This is impressive, especially since the product still feels solid. The all-aluminum chassis is flawlessly assembled and nothing sounds empty. The hinge inspires confidence, and you will not be afraid to immediately open the screen and turn it in all directions. The level of finish is excellent and everything has a matte finish very effective against fingerprints. It's sober, stylish and efficient.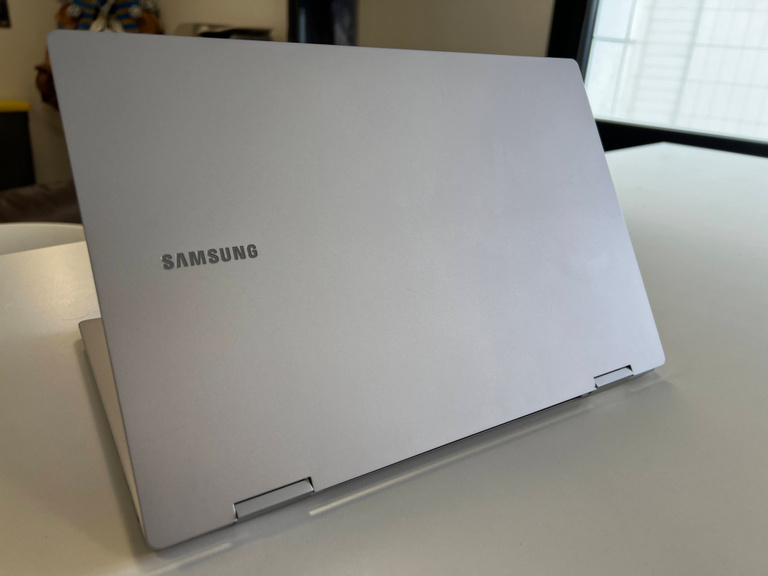 The input area is the same. So there's a fairly large keyboard that takes up almost the entire length, and an efficient and perfectly integrated touchpad that still could have been a bit bigger. You can actually feel a bit cramped if you like to make big moves.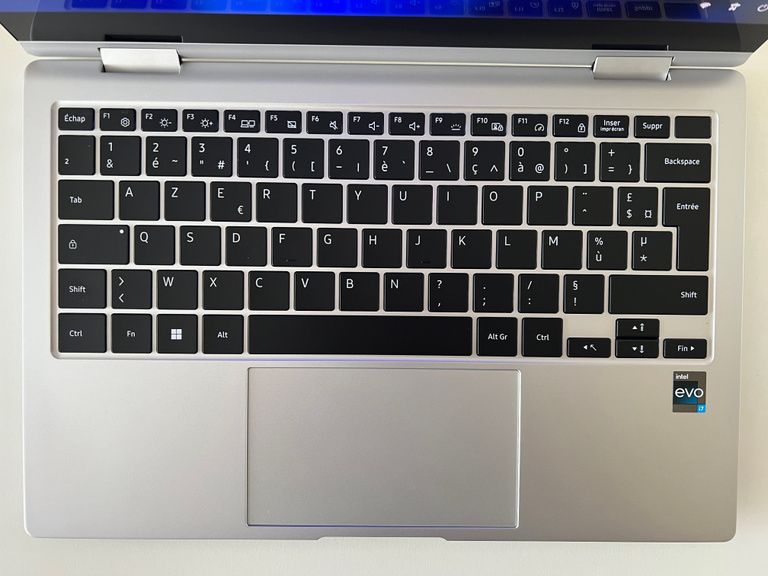 The keyboard, meanwhile, is rather confusing at first. The key travel is very short and the typing feel is not great. The keys still give off a slight click when pressed, giving a better feedback experience. In use, however, it must be admitted that the typing is pleasant and ultimately quite accurate (all this text is written on it). Therefore, it will be easy to use for several hours, even if it takes some time to adapt. This is also the price to pay for such finesse and lightness.
Also note that the fire button on the top left is equipped with a fingerprint sensor, making it very easy to unlock your Windows 11 session. Setup takes a few seconds on first launch, and fingerprint recognition works great.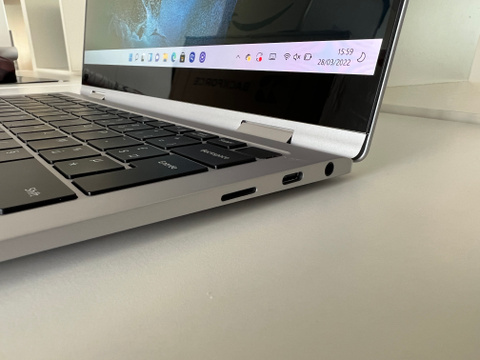 Another sacrifice for the ultraportable format: connectivity. It's really limited, but we still appreciate having a microSD card reader. Then you'll have to make do with 3 USB-C ports, one of which is Thunderbolt 4 compatible, and a Jack connector. As such, we'd like to see a USB-C to USB-A adapter offered in the box. Charging is also done via USB-C.
Screen: OLED, which pleases
For the screen of this new Galaxy Book, Samsung relies on a technology it has mastered: AMOLED, and with it the promise of infinite contrast and vibrant colors. In terms of numbers, the 13.3-inch panel displays Full HD resolution (1920×1080 pixels) and a 60Hz refresh rate. It's a pity not to take advantage of Samsung Display's latest OLED panels, which can run at up to 90Hz. .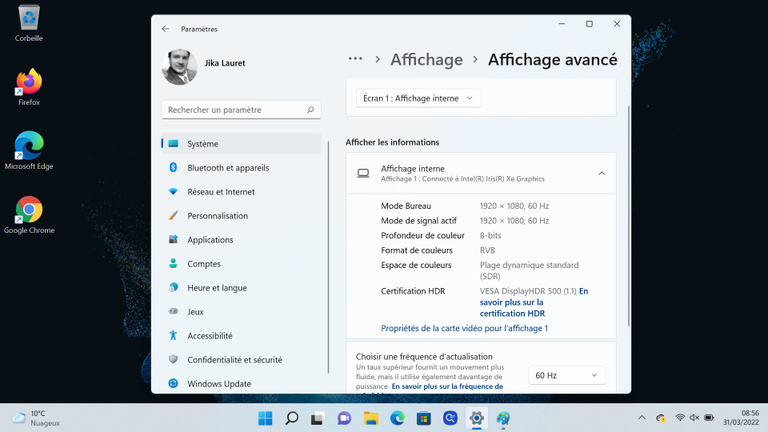 Before we talk about the numbers captured by our probe (contrast, brightness, colorimetry), let's quickly get back to the design of the area around the screen, regretfully noting the wide bar at the bottom, which suggests that we could use much thinner edges and why no matter what, 16:10 format instead of the classic 16:9. A margin of progress for the next generation, no doubt.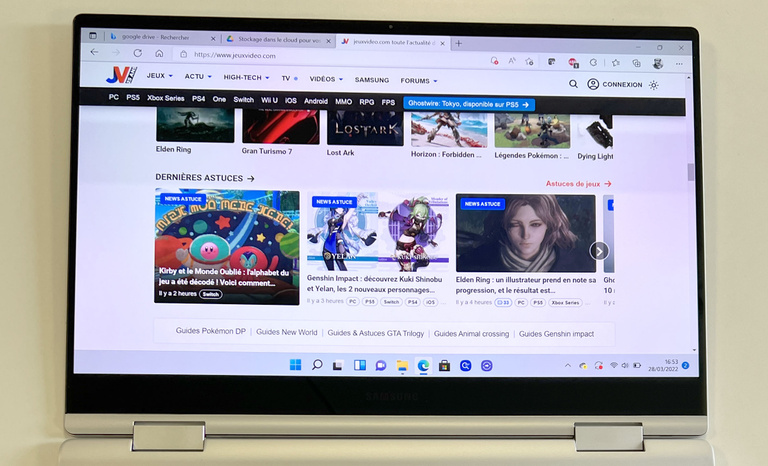 In any case, we are dealing with a very good screen, in line with what is expected from OLED. Without being exceptional, the maximum brightness remains very good (390 cd/m2) and the contrast ratio is truly "infinite". So blacks are completely black. Readability is good, but the glossy finish associated with the touchscreen still causes a lot of reflections, which limits readability outdoors and forces you to keep it at maximum brightness most of the time (and therefore reduce battery life). A pity.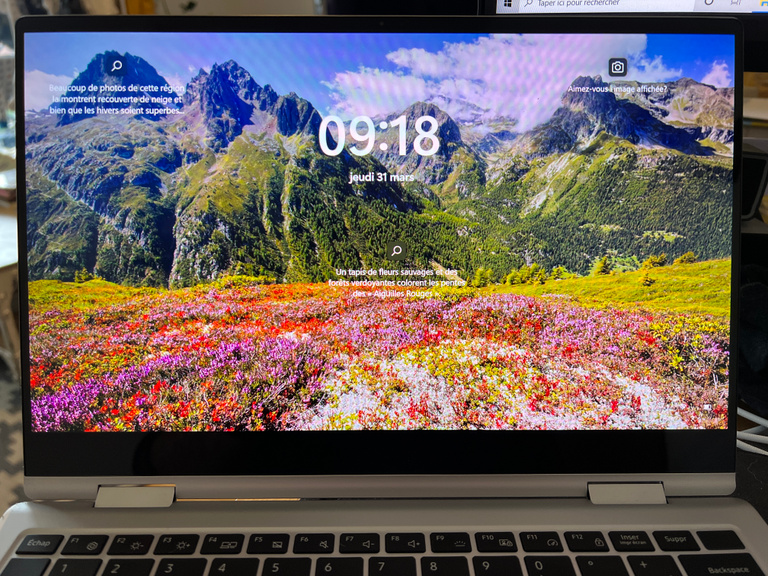 On the other hand, there is nothing to complain about in terms of colorimetry: with a Delta E of 1.8 and a color temperature of 7020K, we are dealing with a very accurate and balanced rendering. Remember that Delta E corresponds to the difference between real colors and displayed colors and should be as small as possible. The temperature is in balance between warm and cool colors and should be around 6500K.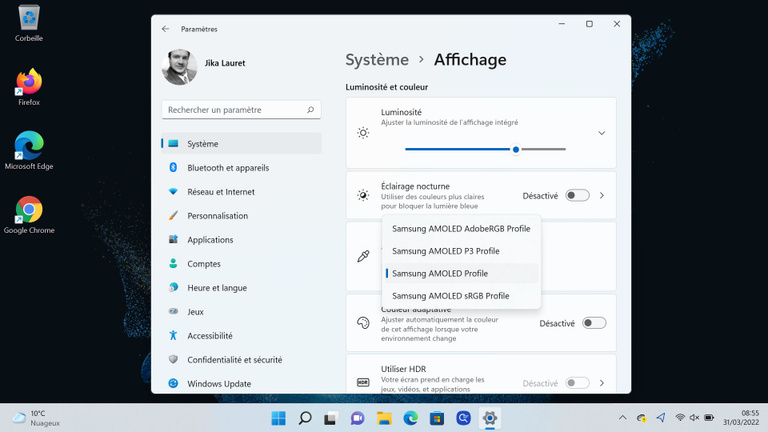 In short, a very good screen that would undoubtedly benefit from a better anti-glare coating, but which takes full advantage of OLED in terms of contrast and colors.
Performance: Latest generation Intel processor delivering
In 2022, Intel has 12th generation processors, and it's no surprise that this new Galaxy Book benefits from it. Therefore, we are entitled to the Core i7-1260P with Alder Lake architecture. This is a CPU with 12 cores, 4 of which are dedicated to "greedy" tasks (so-called "performance" cores), while 8 cores are reserved for power efficiency. This is a new approach for Intel that is proving to be quite beneficial on a laptop type product as we will have a good balance of performance and battery life. The processor is also not very gluttonous, as it consumes only 28 watts by default. On the graphics side, the integrated graphics processing unit (iGPU) is an Intel Iris Xe. It offers limited gaming performance, but will be sufficient for less demanding games at 720p or 1080p at "medium" detail levels. This next-generation processor is paired with 16GB of LPDDR5 RAM and a 512GB or 1TB NVMe SSD.
Specifically, the Galaxy Book 2 Pro 360 with the new Core i7 processor will be very fast in a variety of tasks, but will still show its limits in more demanding things like video editing or advanced photo editing. A good amount of RAM and SSD speed still provide real comfort in everyday life in 90% of use cases. But, if only in its format, the Galaxy Book 2 Pro 360 is first and foremost a "luxury" office product that offers a great user experience under Windows 11.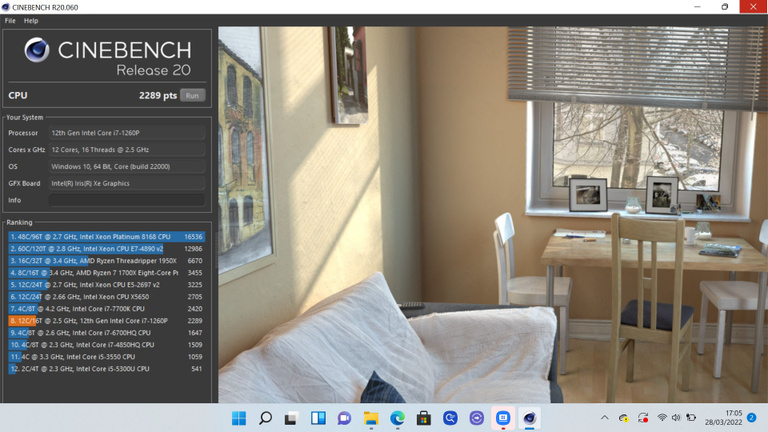 The advantage of a low-powered processor is also heat and noise. In the vast majority of cases, the case does not heat up, and the PC remains completely silent. Loading it all up a bit (in our case with the OCCT "stress test") the temperature will rise and the bottom of the PC will get quite hot, but at a level that remains perfectly acceptable, accompanied by very light breathing. which you will only hear when you put your ear to the ventilation grill below.
Autonomy: mostly enough for a day or more
Heading to work with your Galaxy Book 2 Pro 2 in your bag and forgot your charger? This is not a problem, since it is basically enough for a day. This is definitely one of the strongest points of the product. Autonomy very easily increases to 12 or 13 hours with the right use of energy saving. In terms of video streaming, our Netflix test with the Chrome browser ran on battery power for 11 hours before the battery was completely drained. And again a great result.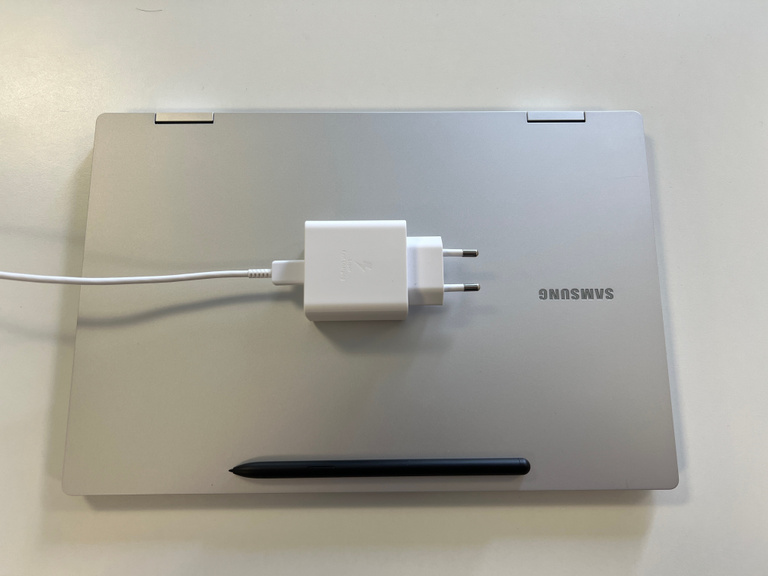 In terms of charging, the PC comes with a 65W fast charger, no more than a smartphone. This allows you to fully charge in less than 2 hours and 30 minutes.
Buy Galaxy Book 2 Pro 360 from Samsung
Conclusion

Strengths
Slim and light body
Very good OLED screen
12th generation Intel processor
12 to 13 hours of battery life
Stylus provided
Vulnerable points
Screen prone to glare
Very short keyboard travel
Screen-to-body ratio that could be better
A noticeable return in the notebook market for Samsung, which signs a great product with the Galaxy Book 2 Pro 360. Impressive in its size (weight 1kg, thickness 1cm), this ultraportable laptop features a very beautiful OLED screen, a 12th generation Intel processor and a battery life of at least 12 hours as other key selling points. The list of defects is minimal: too strong a reflection on the slab, a keyboard that takes time to adapt, or a bezel that is too wide under the screen. Not enough to start a 5 star review.
This page contains affiliate links to some of the products that JV has selected for you. Each purchase you make by clicking on one of these links will not cost you more, but the online store will pay us a commission.
To learn more.