Whatsapp Fraud: Nearly five billion people currently have access to the internet. Most of these people use social media on a daily basis without worrying too much about the personal data they share. A find for many hackers seeking to deceive the most gullible. DNSC makes some recommendations to avoid disappointment.
Whatsapp Fraud Campaign
WhatsApp is one of the most popular messaging platforms in the world. Recently, a new scam has been circulating on the app to deceive its users. This scam materializes as a false message sent to subscribers.
According to specialized media, the consequences are catastrophic for the victims. The National Cyber ​​Security Administration is also urging us to remain vigilant in the face of this new threat.
If you receive a message congratulating you on getting a job you didn't apply for, be careful. For many victims, the scam began with this message:
"Hi! You have been selected for a part-time / full-time job. Daily salary 50 euros – 200 euros, work is accepted"
This job offer is not one. According to the authorities, this is a trap. Clicking on this link will open the doors of your browser and device to intruders. The authorities are taking this threat seriously and are informing social media users.
Recommendations from the National Cyber ​​Security Administration (DNSC)
The National Cyber ​​Security Administration (DNSC) urges Internet users to be vigilant about suspicious messages they may receive. They also launched an information campaign to advise everyone on how to deal with this type of scam. DNSC notes that in most cases, cybercriminals take advantage of the naivety and curiosity of Internet users.
All specialists will repeat this over and over again. We must be very careful with the data we share online. Some scams take the form of registering or opening an account in order to take advantage of an offer. They will ask you to invite other people in exchange for a discount. Others will even suggest that you invest in cryptocurrencies.
DNSC recommendations
It also happened that WhatsApp users received an email informing them that they had received voicemail. Except that the victim doesn't need to open the app to listen to it.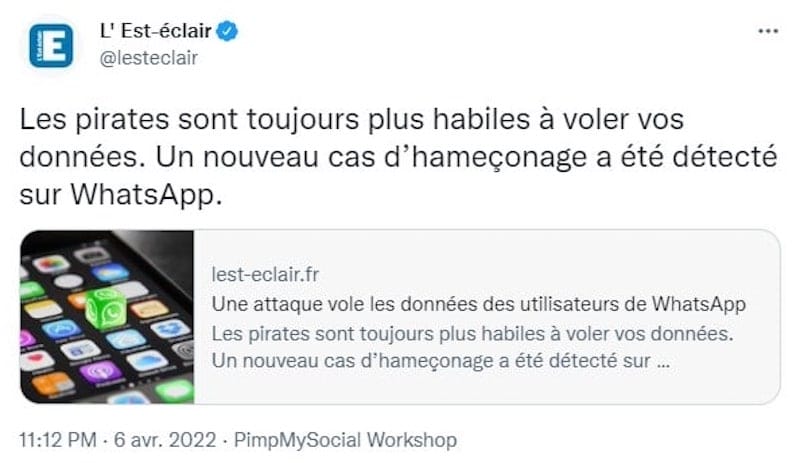 He is offered to follow the link, ostensibly in order to go faster. After clicking on the link, the user allows the Trojan to infiltrate their device. It also opens the door to many advertisements from unorthodox sites.
Here are the DNSC recommendations:
Never give your password, your IDs, your identification details, or your banking details to a site or person who asks you to do so. The purpose of these messages is to extract money from you in the first place.

Be sure to always update the WhatsApp app. Having the latest version of your applications, the latest update of your phone and internet browsers will allow you to install the latest security patches.

Keep in mind that tempting offers are the main tools used as bait by hackers and cybercriminals.

Do not reply to ambiguous messages from unknown numbers. Beware of people who ask you for personal sensitive information.

Check your privacy settings. Update it whenever you happen to greet a new contact.

Control the content you share. Whether it's your photos or your status updates, make sure your posts are nothing too personal.
Finally, vigilance is required when faced with "exceptional offers". Carefully study the details of the ad, pay close attention to the text. When you notice a distinct lack of diacritics, it doesn't bode well. It must be said that most of the texts were written in the attacker's native language.
They were automatically translated using a computer tool into several languages ​​in order to cover a large group of victims in many countries. Look carefully for errors in grammar, syntax, or expressions.