The central kitchen is an important service that Cholete and Cholete did not know about. Nearly 3,000 meals are delivered daily from this facility to the city's various school restaurants, Cholet Animation Enfance, CISPA green classrooms, early childhood structures, self-contained residences, and food delivery beneficiaries from the Adomi Facil. service.
A building that no longer lives up to expectations
"The central kitchen, built in 1989, is obsolete. Future equipment with a production capacity of 4,000 servings per day will meet our desire for quality food by integrating a global educational approach. At a cost of 5.4 million euros, the new central kitchen, together with the Salle des Fêtes project, is one of the largest investments at the beginning of the mandate." Gilles Bourdoulet, Mayor of Cholet and President of the Cholet agglomeration.
The current building, completed in 1989, no longer meets expectations both functionally and technically. "Given the complexity of the restoration and the need to ensure the continuity of public service, this equipment is doomed to demolition."explains Frédéric Pavageot, Deputy Mayor for Finance and New Structural Development Projects. With a production capacity of 4,000 meals a day, delivered cold to around fifty locations, the future central kitchen will be high performance equipment."As part of this project, our goal is to create a modern institution with functions that meet new obligations, in particular the requirements of the Egalim law, which entered into force on January 1, 2022.", says Olivier Bagenard, Deputy Mayor for Education.
Thus, a new regulatory framework, as well as new needs and new methods: a vegetable room for better handling of raw products (cleaning, slicing, slicing), a hot and cold diet room, an adapted latrine or even a kitchen and garden pedagogy for children's receptions. groups. "We want to strengthen our actions on the need to eat well, aimed at children and different audiences."adds Olivier Bagenard.
End of plastic trays
As part of the development of the project, the municipality initially opted to use biodegradable containers. However, after the conclusion of the National Food Board, it turns out that these containers are completely or partially made of plastic. Therefore, the choice was made to use containers exclusively made of stainless steel, an inert material that is recyclable and durable. In total, about 7,000 stainless steel gastronorm containers are needed. "This new orientation has an impact on the original design, especially in terms of operation. We had to rethink storage, washing and the entire packaging process. Result: a total capital gain of 1.4 million euros." says Frederic Pavageot.
Therefore, the original program of the operation was revised and provides, in particular:
expansion of premises;

adding a washing trolley;

modification of packaging material;

adding a set of trolleys and shelves for storing baskets and lids;

replacement conveyor dishwasher.
Against all odds, the city awaits a legal commitment that sets a deadline of 2025, and in doing so, confirms its desire to build new facilities in line with its public health and sustainability policies.
Particular attention has been paid to the comfort of the 22 food preparation agents: the ergonomics of the various workplaces, high-tech equipment, natural lighting in the workshops… On an area of ​​approximately 1,400 m², the building will comply with the RE 2020 environmental regulations. Preference was given to the integrated management of storm water.
The surroundings of the future central kitchen will have more natural rainwater infiltration, which will limit artificial tillage and demonstrate the municipality's commitment to preserve the environment as much as possible.
Did you know ?
Admission of a child during a meridian break costs an average of 14.54 euros (in 2019). The city authorities, for their part, ask parents for an average of only 2.93 euros. The difference is paid directly by the Collective.
What does the Law of Egalim say?
Food, plastic waste, animal welfare… several provisions of the so-called Egalim law (Law No. 2018-938 of October 30, 2018 on the balance of commercial relations in the agricultural and food sector and healthy, sustainable and affordable food for all) apply to school meals . In addition to these obligations, there are climate and sustainability law obligations.
Specifically, here is what the Collective should plan for their collective meals:
vegetarian menu for a week (already configured);

diversification of protein sources;

fight against food waste (already implemented);

50% supply of sustainable products, including 20% ​​organic farming products (already implemented);

a ban on the use of plastic trays (for cooking, heating, serving) and disposable tableware (planned in the central kitchen project);

informing guests about the share of environmentally friendly and quality products (in progress)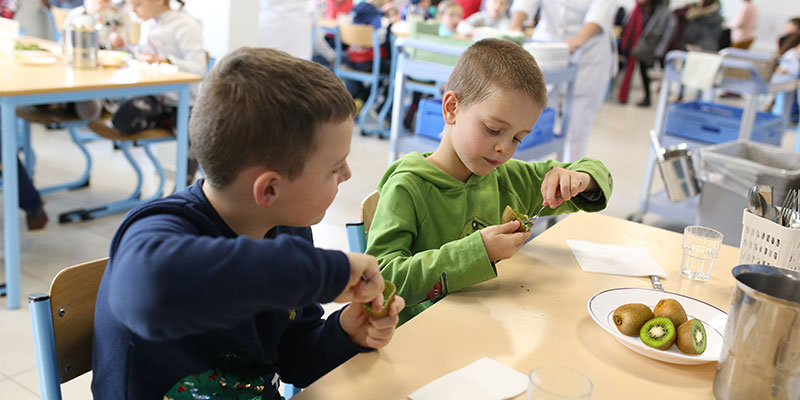 Pleasure on a plate
Currently, already in the Cormier district, in the central municipal kitchen, 2020 dishes are prepared, served every day (on average) in the public schools of Cholet and Puy-Saint-Bonnet. The city has entrusted this mission to Sodexo until 2023. Together, they wanted to go beyond just food delivery and anticipate the new provisions introduced by the Egalim law, effective January 1, 2022. Through a laptop that requires downloading and scrupulous control, the city is imposing a high-quality approach on its service providers that prioritizes local supplies and fresh, seasonal produce.
Law of Egalim – 10 positive aspects of school meals:
Label Rouge meat for roasts and Label Rouge poultry;

fish fillet, guaranteed boneless;

organic bread with every meal since 2010;

vegetables and fruits: carrots, tomatoes, white cabbage, red cabbage, cucumbers, beets, celery, zucchini, radishes, peppers, dill, green salads, apples, organic pears from local producers and organic bananas and kiwis;

organic fruit purees;

organic cereals and legumes and rice Camargue PGI;

organic cottage cheese blanc / organic yoghurts from local producers;

organic cheeses, AOP or AOC;

one vegetarian menu per week;

exclusion of GMOs and palm oil.
And since eating well is, above all, enjoying eating well, the city of Cholet has developed a whole approach to cultivating taste: themed dinners, events such as "My school, my menu", cooking classes, visits to the central kitchens… Objectives: so that the child can go beyond "I like/dislike", try and evaluate. With results: less food waste and better knowledge and support of the child by the teams.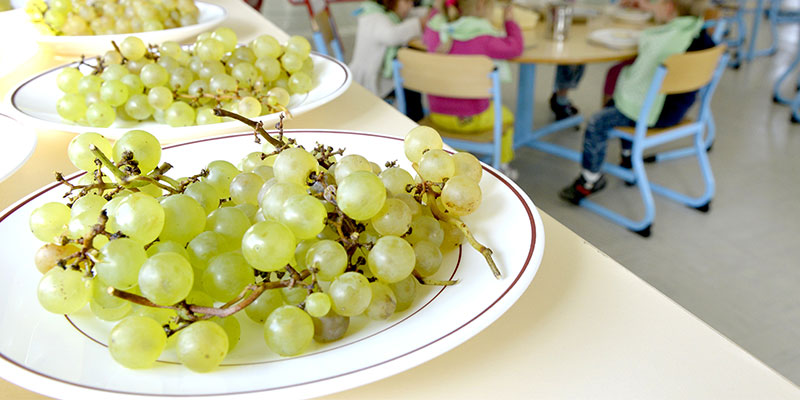 New central kitchen
» 4000 meals a day
» 7000 stainless steel gastrocontainers
» 1400 m²
» 12 months of work
» Investment of 5.4 million euros